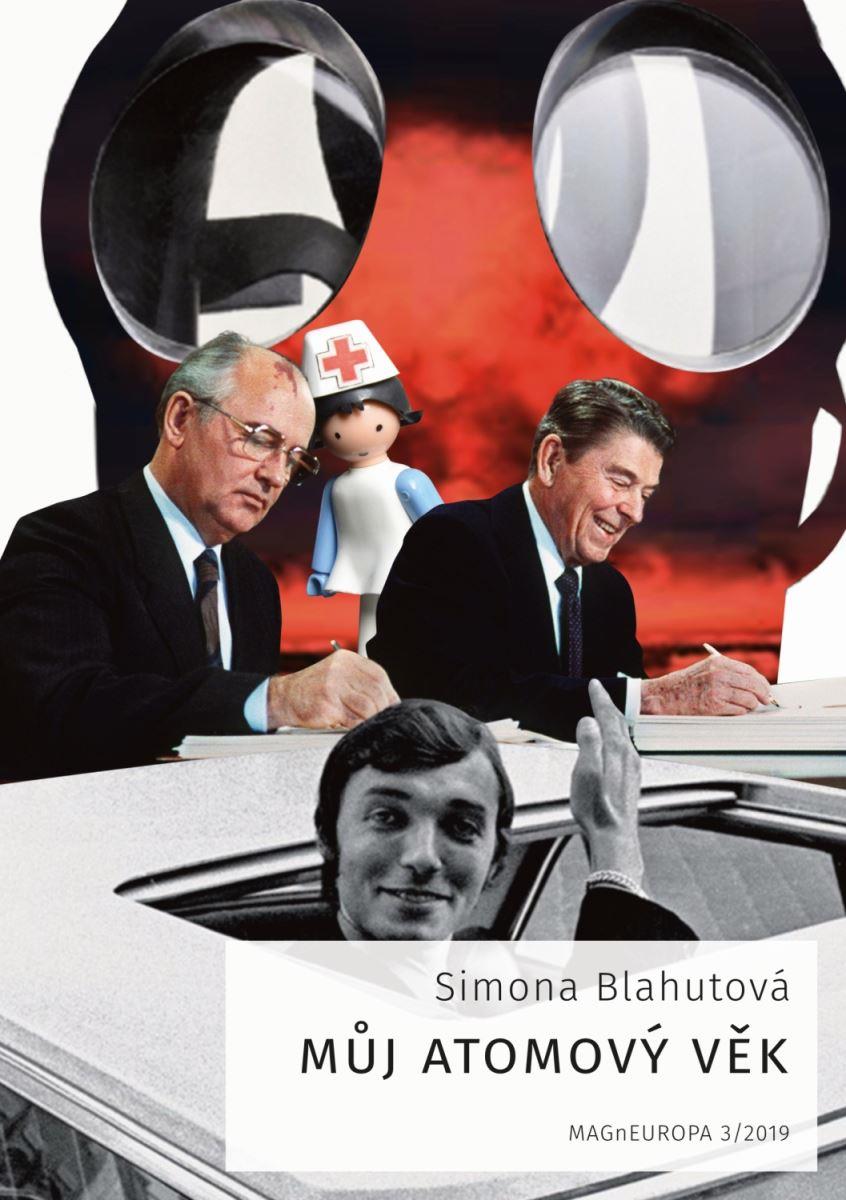 Mein Atomzeitalter
Ausstellung | Freitag, 8. November 2019 - Dienstag, 3. Dezember 2019
Bautzner Straße 49, Dresden, Germany
Simona Blahutová (CZ) – Mein Atomzeitalter
Die Autorin, Malerin und Multimedia-Künstlerin Simona Blahutová (Prag, CZE) wurde in der tschechoslowakischen sozialistischen Republik /ČSSR/ in der späten Ära des Kalten Krieges geboren.) Ihr künstlerischer Ausdruck konzentriert sich seit langem auf Spannungen zwischen der eigenen Existenz, historischen Bedingungen und der politischen Situation.
Die präsentierten Fotomontagen spiegeln die Spannung zwischen der jugendlichen, freudigen, freien Vorstellungskraft und dem Wort, in das das Kind eintritt, ohne Pause geplant. Im Auge des Kindes sind die Spielzeuge groß und die Welt ist klein, die Skalen könnten umgekehrt oder verschoben werden, das Maß spielt keine Rolle. Ihr Verstand konnte nicht mehr als amüsiert sein, denn das Träumen über ihr zukünftiges Erwachsenenleben wurde mit dem Leben eines bereits erwachsenen Menschen konfrontiert, ihrer Verzweiflung, dass Träume für eine gute Werbung verschwanden, was als außerirdischer Plan in dem, was sie grob festgelegt waren, ruhte.
Text: Michal Tošner, Kunstkritiker und Soziologe
The author, painter and multimedia artist Simona Blahutová (Prague, CZE) was born in the Czechoslovak socialistic republic /ČSSR/ in the late Cold War era). Her artistic expression for long focuses on tensions between one's own existence, historical conditions and political situation.
She renders ambivalent feelings which she felt like a little child when she was knitting her early imagination in play with "normalized" toys. The world around her was constructed according the socialist functionalistic plan, dedicated to the wholly new type of human, for the society very organized, with precise division of functions and labor. Even design of toys was reflecting that. The popular among them was so called "igraczek", brand with slight Russian taste. The child's play was u(b)sed as a socialization, more exactly for indoctrination of this centrally planned life. The shapes of toys, fascination by megalithic block of flats, firstly soothing because of clarity and transparency of order became by the years scary and scariest.
Presented photomontages are reflecting tension between juvenile joyful free imagination and the word, the child is entering, planned without rest. In the eye of the kid the toys are big and the world is small, the scales could be inverted or shifted, measure doesn't matter. Her mind couldn't be thrilled more than amused, because dreaming about her future adult life was confronted with the life of already adult, their despair that dreams vanished for good ad what rest as the alien plan in what they were roughly set.
Text: Michal Tošner
kulturaktiv.org/galerie-neuropa/
Das Pragomania Festival ist die Teil der Tschechisch-Deutschen Kulturtage. Vorwiegend in der Dresdner Neustadt finden eine Vielzahl von Konzerten & Partys statt, die der Neustädter Verein Kultur Aktiv liebevoll und in Zusammenarbeit mit Neustädter Clubs auf die Beine stellt.